Each year, we create a calendar that displays projects with a wide variety of applications. In this post, we'll give you more information about photos featured in the 2020 edition of the SteelMaster Buildings calendar.
Many of the photos featured this year were submitted through our 2019 Photo Contest. We plan on holding another contest in 2020, so start getting your cameras out and snapping your best photos and videos — your building could be featured in our 2021 calendar!  Follow us on Facebook, Instagram and Twitter for updates.
Cover — Hangar | Naval Air Station Whidbey Island, Washington

Before you open the 2020 SteelMaster Buildings calendar, you are greeted with an image of a row of hangars at Naval Air Station Whidbey Island in Washington. NAS Whidbey Island is the premier naval aviation installation in the Pacific Northwest, according to Military.com. The hangars are used to store F-18 aircraft and were assembled by Shiver Construction Company.
January–Cabin | Kotzebue, Alaska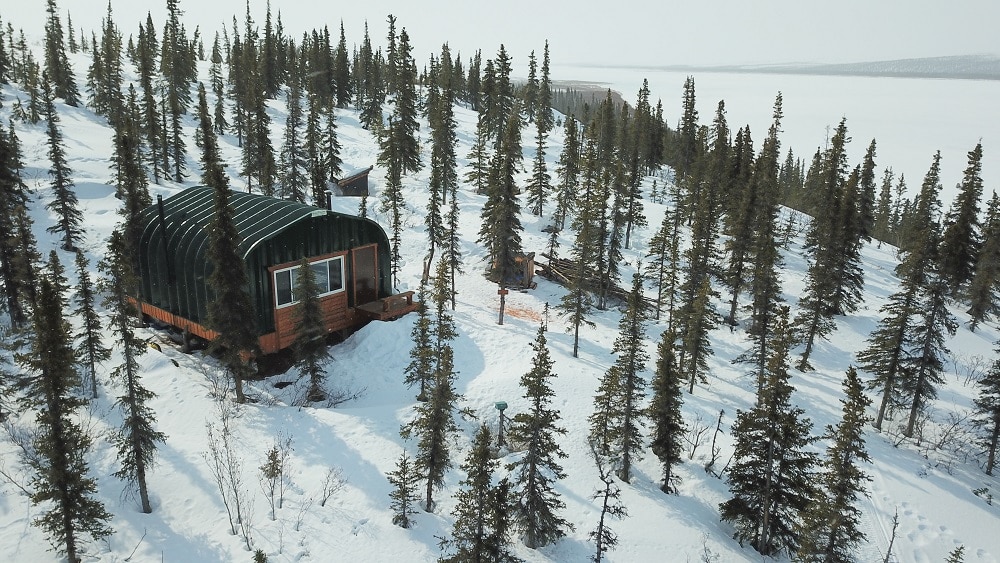 SteelMaster customer Rod E.'s Quonset hut cabin is the perfect place to get some rest and relaxation in the Alaskan wilderness. Located about 24 miles from his home, the 20' x 24' A-Model cabin is so remote that the only way to get there is by boat or snow machine. This photo won first place in our 2019 photo contest! Read more about Rod's project by clicking here.
Texas-based restaurant Ranch 616 used a SteelMaster metal canopy to cover their outdoor seating area. Not only do the arches provide shade for restaurant patrons, but the creative design is supposed to resemble the barrel of a gun.
March — Storage | Hat Island, Washington
Don F. says purchased his 10′ X 20′ building from SteelMaster due to the ease of construction, durability and price. The building was easily transported to their home via regular barge delivery. Donald's 23-year-old son and his wife put most of the building together themselves. It stores their quad ATV and other large items out of the wind and rain. The endwall even matches their home!
April — Carport | Northlake, Texas
This photo won second place in the 2019 SteelMaster photo contest! SteelMaster's carports offer several benefits that will save customers money for decades. Unlike carports made from other materials, steel is able to survive in all kinds of weather. It will not rot, warp, buckle, twist, or crack. It is also corrosion resistant, fire resistant and cannot be destroyed termites.
May — Garage | Anamosa, Iowa

The endwalls on this SteelMaster 20′ x 46′ A-Model garage perfect matches the exterior of the customer's home! While the uses for our buildings are virtually limitless, our metal garage kits are among the most popular applications for our residential customers. This particular building is multi-purpose, functioning as both a garage and a workshop in the back.
June — Agricultural Storage | Three Forks, Montana

Paul and Eileen's photo of their building in sunny Montana is the perfect way to kick off the month of June! This Q-Model is used as a workshop and houses a tractor, boat, vintage car and horse draw.
July — Hangar | Naval Air Station Whidbey Island, Washington

In honor of the Fourth of July, we included an interior photo of one of the hangars at Naval Air Station Whidbey Island. As you can see, the plane fits perfectly inside of the SteelMaster hangar! NAS Whidbey Island's rural location is ideally situated due to low density aircraft traffic. Additionally, the base has evolved into the Navy's premier training center for electronic attack and patrol and reconnaissance aircraft platforms.
August — Cabin | Pioneertown, California
Pioneertown, California is known for being a live-in Old West movie set, but SteelMaster customer Mark P.'s  Quonset huts are the real stars of the town. He and his wife use his tiny 10' x 12' hut as a bedroom. A winding concrete path connects to his other hut, which will be used as a studio. Read more about Mark's project by clicking here.
September — Carpenter Ranches | Yakima Valley, Washington
Carpenter Ranches is a hops farm that uses two large SteelMaster buildings as processing facilities. As the craft brewing industry started to grow and the demand higher quality products increased, the Carpenters decided to replace their older hop drying facilities with brand new SteelMaster Quonset Huts. According to Rick Rinehold with Carpenter Ranches, the new Quonset Hut facilities have proven to be very efficient at drying hops quickly over the past year. Read more about this project by clicking here.
October — Garage | Fort Collins, Colorado

Brad M. says his building makes him the "envy of every man in Fort Collins." His container cover roof is perched atop two shipping containers and enclosed with endwalls, giving him 350 feet of wall space and the ability to store 12 cars in his garage. Brad uses his building as a garage, workshop, storage area, workout room and more!
November — Restaurant | Mason, Wisconsin

The Delta Diner added a new venue to deal with the increase in business in the non-winter season created out of two shipping containers and a SteelMaster container cover roof. They named the venue the Tin Tap House & Chicken Shack, or Tap Shack for short. The Tap Shack offers Jamaican-inspired cuisine and partnered with Earth Rider Brewery to provide beer. To create a taproom, doors and windows were cut into the two shipping containers. Local mural artist Greg Wimmer painted the sides of the containers with Jamaican-style artwork, according to the Milwaulkee Journal Sentinel. Learn more about this project here. 
December — Garage | Olancha, California
We chose to close out 2020 with an artistic shot sent to us in our 2019 photo contest. Customer Carol D. took this photo of the peak of her 30′ x 44′  A-Model garage that mirrors the mountains in the background and submitted it to our 2019 Photo Contest!
If you're a SteelMaster customer interested in receiving a physical copy of this year's calendar, simply share your story in an online review about your positive experience with us through the Better Business Bureau's website and Google Reviews. You'll also receive a complimentary SteelMaster polo shirt and a baseball "trucker" hat.