SteelMaster Buildings Reviews & Testimonials Of Quality & Service
With an A+ rating from the BBB, industry accolades and rave reviews from our customers, SteelMaster Buildings is the steel building company you can rely on. There's a reason why our customers come back again and again; it's all about the SteelMaster Difference.
For us, it's all about the customer's overall experience.
Our mission is not simply to gain a customer who wants to purchase a building; we wish to produce quality buildings and bonds that last a lifetime. For over 40 years, SteelMaster has continued to be a leader in the steel building industry because we handle every customer with care. Our solutions-focused approach is what sets us apart from other companies who produce steel Quonset Hut buildings.
Many of our customers come back to share their experiences with us. Some customers proudly show photos of their finished buildings and others give us valuable feedback which is then used to continue to perfect the journey for others in the future.
Quonset Hut Project Wins Architecture Award
The Quonset hut housing project 'Caterpillar' has won the 2021 Architizer A+Product Award for Best in Facades.
SteelMaster's Senior Project Manager Greg Broderick worked with the director of Prince Concepts, Philip Kafka, and architect Ishtiaq Rafiuddin of UNDECORATED to design Caterpillar, which has six special residential units and two live/work units in one large 46' x 192' SteelMaster Q-Model hut.
High Quality Products
SteelMaster produces top-quality Quonset Hut building kits as well as custom structures that are made to fit each customer's unique needs.
Whether it's a small shed used to store simple tools in the backyard, a massive production facility for a major corporation or a government equipment depot, every SteelMaster building is manufactured with the highest quality, most durable steel on the market.
SteelMaster Customer Purchases Second Quonset Hut – 20 Years Later
Wayne describes his experiences with SteelMaster throughout the two decades as "exceptional."
"I had support on the first one I built and the second time I called [Division Director] Noah [Taylor] a couple of times with a couple of questions and he talked us through it with doing the endwalls and how they went," Wayne said. "He did an incredible job when I bought it. I'm very pleased with my buildings."
Solutions-Focused Company
We work to help our customers solve problems that may arise during the process and those that happen even years after the building is completed.
We Welcome Feedback
We welcome all feedback from our customers. Part of striving every day to be the best steel building company in the industry means reading both positive and negative SteelMaster building reviews.

We Value Our Customers
If you're looking for a metal building construction company that values every customer, takes the time to walk you through every step of the way, and also celebrates with you when the building is complete, SteelMaster is the right choice.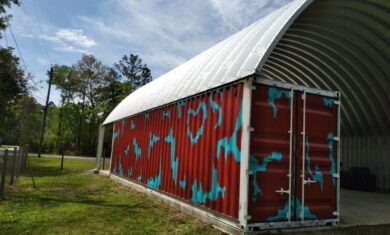 Top notch team, with a top notch product. Once you find Steelmaster buildings in your building search, the search is over, you've found the best.
Jeremy Cody