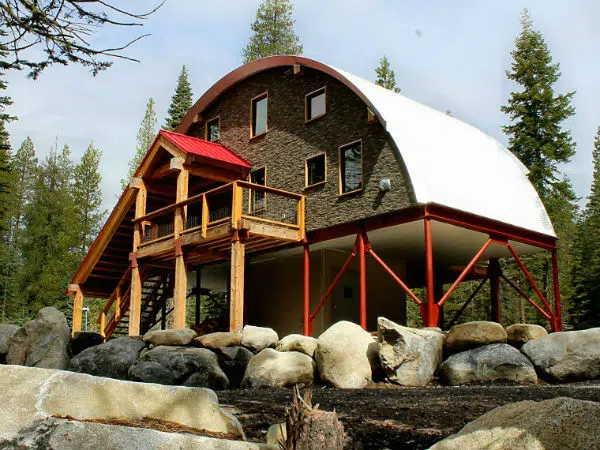 Demand for modular homes, once a mainstay during the post WWII era, has seen resurgence in recent years. Present day consumers have sought to find interesting, contemporary designs unlike those boxy, poorly conceived dwellings of yesteryear. Vern Sneed, owner of northern-California based Design Horizons envisioned a concept to develop prefabricated homes that not only were aesthetically pleasing and used modern materials but were also simple to assemble. The growing vacation home market seemed like a natural fit and he began to focus his concept in that niche.
Beginning with the pre-engineered arch-steel panel design from SteelMaster Buildings, Design Horizons incorporated various products from traditional building material suppliers into several models. Once the 5 cabin kits that they ultimate developed were designed, they worked to create the component parts in their facility that would result in their first home.
The Problem
To develop a cost effective, architecturally pleasing pre-fabricated home
Prefab homes on the market are not of the highest quality and typically lack a desired design aesthetic
There were no known suppliers that incorporated multiple building materials and provided a complete product to the building site
Meet local snow load ratings and zoning permits with CA Wild Fire Urban Interface Zones
The Solution
Develop standardized, architecturally conceived modular homes
The various systems would be staged at a fabrication facility, packaged for simple installation and shipped in pre-assembled modules
Chose the SteelMaster Quonset HutTM style of building for its versatility, strength and design potential
The Execution
5 standard Q-Cabin kits with support systems were developed requiring only 3 unique arch panel lengths of equal radius
The Results
Potential customers now have a one-stop shop for a beautiful, cost-effective modular home
The first design has been designed and built in the mountains of California
Received approvals in all CA Wild Fire Urban Interface Zones and achieved an incredible 354lb/sqft snow load rating
The collaboration between Design Horizons and SteelMaster Buildings achieved huge design and implementation success. Demand for the homes has been extremely high and numerous homes are underway in various stages of the design and implementation phases.