SteelMaster customers Luke and Kelly Rompel had a dream for their perfect Quonset home. They spent three years working on their labor of love and now they have a beautiful Quonset home that sits on 26 acres of land.
It all started when the couple were discussing their ideal home. Initially, they loved the idea of a tiny home, but with two kids and another on the way they decided they needed more space!
They saw a photo of a Quonset home in Rhode Island, and they were intrigued, which led them to SteelMaster.
Luke, a laborer of nineteen years and now a business owner, purchased the undeveloped land and began the work! He acquired all the tools, and he dug in power and a sewer system.
First, he purchased a Quonset garage, which Luke says was his "test run." He got a crew of ten to erect the arches and they were able to assemble it in sixteen hours!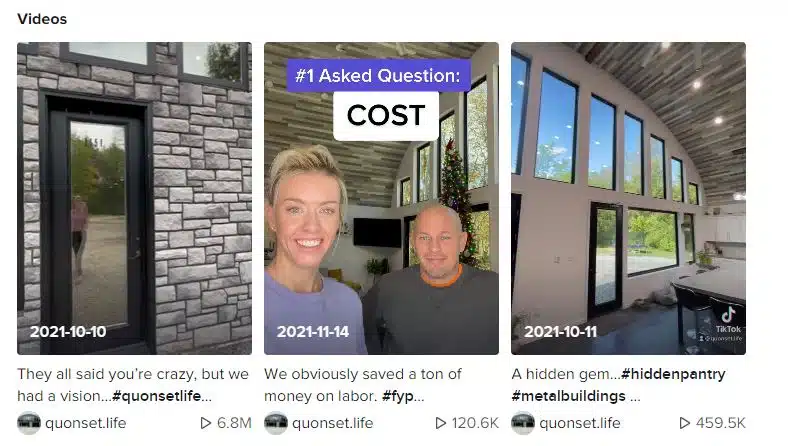 After speaking with National Sales Manager, John Deere, Luke purchased the Q-Model for his home.
He said, "I learned so much from assembling the first building that I knew exactly what I wanted to do with the second building and had all my pieces ready to go."
He added, "I put a lot of time into this overall because this is our forever home. I'd work on the house until dark every night as much as I could."
Luke and his crew were able to assemble the home in only six hours! Then, the fun began as they completed the interior. Luke prides his wife, Kelly, on being the designer, while he is the builder.
They captured their journey on TikTok, where millions of viewers could join along on their building journey! Their most recent video has 8.6 million views!
Their home has gained popularity in person, too. "When we have people over they are just amazed," Luke said.
When asked what his favorite part of his Quonset his, Luke replied, "the efficiency." Luke installed two types of insulation to maximize the energy efficiency to cut costs.
Overall, Luke says his experience with SteelMaster was great!
"John Deere was great. I enjoyed talking with him, we bonded, absolutely had a great experience. All of my questions were answered."