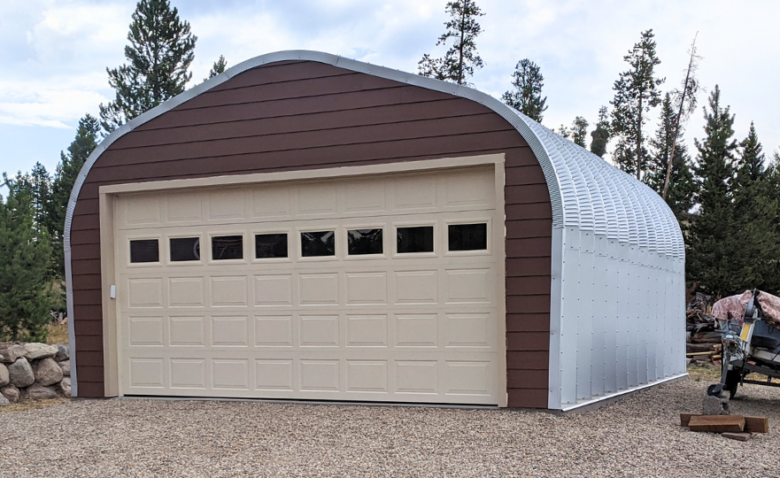 Colorado
Steel building kits designed just for Colorado 
Colorado Steel Buildings: Prefab Garage & Storage Solutions
Hundreds of customers across the state of Colorado have purchased SteelMaster metal buildings to fit their needs. Whether you live in a metropolis like Denver or a small town in the Rocky Mountains, SteelMaster has a building that will meet or exceed all building codes in your area.
If I had to do it again, I would definitely go with SteelMaster!
Peter H. - Colorado Springs, Colorado
Colorado Metal Buildings: FAQs
What are the most common steel building applications in Colorado?
Garages and storage buildings like workshops are the most popular buildings we sell in Colorado. Our DIY metal garage kits are ideal for anyone who wants to get extra storage space and great quality for an affordable price. SteelMaster workshops are the perfect place to organize, store and protect your valuable tools and machinery as well as provide comfort, security and durability against fire and snow.
It should be noted that Quonsets are versatile structures suited for dozens of applications for residential and commercial clients. We also offer a variety of models and sizes for virtually any application.
How do steel buildings do with heavy snow loads?
SteelMaster's metal buildings are able to handle the snow load in any region. Our steel buildings follow the snow load provisions required by the ASCE 7-95 and those of the IBC. Our arches are created with commercial-grade, high-quality steel that can be customized to accommodate extra heavy snow loads in areas – from Denver with 53.8 inches or Crested Butte with 216.6 inches of snow per year.
Any of our models can accommodate these loads including the A-Model, S-Model, the classic Q-Model and the X-Model which is the most popular for heavy snow. If a home or building is not well prepared or designed sufficiently, the weight of extremely heavy ice and snow can cause the roof to collapse. This can cost thousands in repairs and cause injuries to those inside of the home. SteelMaster's durable, metal Quonset Huts are engineered to handle the heaviest snow loads.
How do Quonset huts handle bitterly cold temperatures?
Coloradans need buildings they can trust to keep the cold out and the warm in. With highs in the 40's and lows in the teens in January and February, Coloradans need buildings they can trust to keep the cold out and the warm in. For most applications, like storage buildings and garages, Quonset huts don't need insulation because the thickness of the steel and its Galvalume+ coating provide enough protection from the bitter cold.
For areas of extreme cold or for buildings designed to be more habitable, you can choose the type of insulation that makes the most sense for your building. Batten insulation is the most popular but not only option for cabins, homes or workshops.
Does SteelMaster have experience working with Colorado businesses?
Yes, several SteelMaster commercial clients and in Colorado depend on our structures to protect their expensive equipment or provide much-needed space. The Denver Airport uses SteelMaster carports to protect its vehicles from the elements year-round. SteelMaster carports are made with the best, most durable steel and the beams are also incredibly strong. Our carports are also easy to construct and take less time to build than a traditional garage.
Nearly 400 miles away, the Telluride Airport in San Miguel County uses SteelMaster Quonset Huts to store equipment and trucks, as well as fuel buildings. ExxonMobil uses a SteelMaster metal building at its natural gas processing plant in western Colorado's Piceance Basin.
If you're a Coloradan who is interested in a strong, versatile and affordable building that's easy to assemble, contact one of our design specialists today.
Colorado certified buildings
Talk to a building specialist
"*" indicates required fields