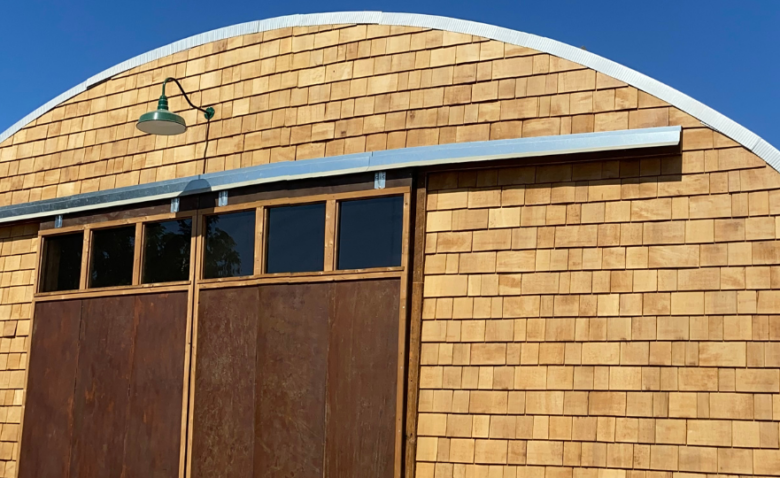 California
Steel building kits designed just for California 
Prefab California Metal Buildings: Building Kits That Save On Construction
For decades, Californians have trusted SteelMaster to provide the strongest, most durable steel buildings on the market. From agricultural buildings to prefab sheds, our team of experienced design specialists will find the perfect customized building for you.
---
"I had a choice of what design to do and I like the traditional [Q-Model design], which is like a rainbow. It's such a neat shape."
David S., California resident
What are the most popular steel building applications in California?
As with most states, the most popular type of SteelMaster Quonset huts in California is storage buildings like prefab garages and sheds. However, our customers have used SteelMaster structures in many different ways including houses, film sets (on and off camera) and agriculture.
Garages
Sheds
Storage buildings
Houses
Barns
Agriculture buildings
TV/Film
Do Quonsets meet California Building Standards Code?
The California Building Standards Code serves as a basis for design and construction of buildings in California. Our state-stamped engineered blueprints can meet all California building codes and loads requirements for every building size and use.
All designs and calculations are stamped by a licensed, professional engineer with clearly diagrammed drawings of your building. While there's nothing we can do to speed up the permitting process in California, we provide you building specifications that either meet or well exceed permit and code requirements to make the process as easy as possible.
Do Quonsets make good homes? Can they be built in California?
Yes, Quonset huts make excellent homes and are allowed to be built anywhere in California that allows steel arch buildings. The natural design advantages of an arched building means you have 100% interior space to design your dream home.
100% usable space for a custom-designed interior
Arch design means no roof to replace or repair
Sustainably produced steel
Energy star rated homes
Do Quonsets make good workshops?
Yes, SteelMaster will work with you to design a custom workshop to meet your needs. Artist Bobby Furst in Joshua Tree, California said he was drawn to Quonset Huts because of their industrial look and shape. Furst, a contractor by trade, assembled a prefab home with a bathroom and kitchen, along with a separate workshop building.
Are Quonset sheds an affordable option?
Cheap sheds at big-box home-improvement stores are great for small (less than 10 feet) shed storage. However, these cheaper options may not be as "tough" as they claim compared to a Quonset shed. SteelMaster's durable and affordable shed kits are disaster-resistant at competitive pricing. Our storage sheds are engineered to withstand severe weather events like hurricanes, tornadoes, blizzards and seismic activity in earthquake-prone locations like California.
How do Quonset huts do in California earthquakes?
SteelMaster's seismic-resistant Quonset Huts are specially engineered to withstand the extreme forces of an earthquake, protecting both the valuable items inside and the occupants. Our earthquake-resistant building design features make Quonset Huts some of the strongest, most durable structures on earth.
Our steel buildings are constructed as one arched unit, which evenly distributes the energy caused by seismic waves to its concrete foundation with little chance of damage. The clear span design does not require the use of beams and trusses to support the structure, which eliminates the potential for weak spots inside of the building that could contribute to a collapse. With an arched design, seismic waves flow through the structure and out and because there's no roof, there's no chance of a roof collapsing.
Unfortunately, earthquakes are common in California due to a geological fault that spans roughly 800 miles through the state known as the San Andreas Fault. Earthquakes can occur almost everywhere in the region due to countless other faults. California has thousands of smaller earthquakes every year, according to the Southern California Earthquake Center. Any building you consider in California should be able to withstand seismic activity.
Can Quonsets withstand California wildfires?
Yes, steel is a type 2 non-combustible material and SteelMaster has worked with local Californians to design fire-resistant structures for decades. SteelMaster's metal buildings have unmatched protection from fire-related disasters. A SteelMaster Quonset Hut would have a much better chance of surviving because an average surface fire on the forest floor can reach temperatures around 1,500 degrees Fahrenheit or more. It takes more than that amount of heat, 2,500 degrees, for steel to even begin to burn.
Vern Sneed of Design Horizons has collaborated with SteelMaster over the years to create "Q Cabin Kits," economical, non-combustible Quonset hut homes that are designed to survive a wildfire better than any stick-built home.
The Q Cabin Kits are completely fire-resistant and can be assembled quickly. Design Horizons uses 2 x 6 steel studs and track, 2 x 12 steel floor joists, and 18 gauge SteelMaster arches. Beams are added perpendicular to the arches to give the buildings extra strength. While many are drawn to Quonset hut cabins for their unique aesthetic, Vern hopes that more people will be drawn to them because of their disaster resistance.
California is known for its intense wildfires. Over two million homes in the state were identified as high or at extreme risk of wildfire. While USGS research shows there have been fewer and fewer wildfires in California since a peak in 1980, there has been trend showing growth in fire sizes.
How does the California agriculture industry use arched buildings?
With over a third of the country's vegetables and two-thirds of the country's fruits grown in California, the state has a thriving agricultural economy that relies on buildings of all types for produce. SteelMaster offers a wide range of customizable metal prefab barns and agricultural storage buildings that come in different models and sizes used across the Golden State. Popular uses include:
Alfalfa and hay storage
Tractor storage
Equipment barns
Agriculture processing building
Portable farm shelters
Small storage sheds
Grain storage
Farmers like Quonset buildings because can be assembled quickly, are durable against storms and are versatile enough to be used anywhere on the farm.
Why does the entertainment industry choose Quonset huts?
Similar to the mining industry, the entertainment industry appreciates Quonsets because they are quick to assemble and disassemble and are very portable. They can be erected from set-to-set based on filming and location needs. When filming is done, the steel building(s) can be easily taken down and moved to another location, or even used for equipment storage. They're also cost-effective, which makes them easy to work within a movie budget.
While our buildings are primarily used as storage facilities, workshops and houses, they have also been featured in several movies and television shows. SteelMaster's structures have appeared in Forces of Nature, Family Guy, Expendables, Dodgeball, Valiant, Die Hard: With a Vengeance, The A-Team, Are We There Yet, Orange is the New Black and Top Gun Maverick.
Do buildings include California State-Stamped Blueprints?
Yes, your steel structure will come with SteelMaster State Stamped Engineered Blueprints that meet all California building load requirements. All designs and calculations are stamped by our licensed engineer with clearly diagrammed drawings of your building.
Code requirements vary across the state of California, so it's important to check with your local building department to find out what's needed in your area. Once you find out what information you need, one of our building specialists can provide you with some of the documents required by your city or county.
Some locations in California have more complex building codes than others, but our building specialists can help you design your buildings accordingly to meet most code requirements. Many counties in California require California state-stamped calculations, including:
Contra Costa County
Kern
Nevada
San Bernardino
Los Angeles
Many mountainous regions require blueprints to include deeper frost depths than normal, which SteelMaster can design accordingly. For example, Mono and Pluma Counties and South Lake Tahoe require the footings of our buildings to be 18" below grade.
Some counties, like Nevada County, require connection details to show how the parts of your structure go together. SteelMaster can help you meet this code requirement by providing these details on the blueprints.
Can Quonsets meet or beat IBC and load requirements in California?
Yes, SteelMaster has an in-house factory engineer who will make sure your building can meet or beat International Building Code (IBC) and local load requirements.
California has adopted the model building codes maintained by the International Code Council. The International Building Code recognizes that steel is non-combustible, which means our fire-resistant metal buildings easily meet the California Fire Code. Steel buildings are considered to be both type 1 and type 2 buildings in fire codes. Type 1 categorizes it as fire resistant and type 2 determines that the structure is non-combustible.
In addition, the ICC's seismic provisions represent the best guidance on how structures should be designed and constructed to limit seismic risk. SteelMaster's earthquake-resistant structures strictly follow these earthquake building codes to ensure safety once each building is erected.
Are SteelMaster Buildings Title 24 Compliant? Eco-friendly?
SteelMaster is proud to offer environmentally friendly buildings that can be designed to be compliant with the California Building Standards Code Title 24. These eco-friendly structures are designed to reduce the negative impact of construction on the natural environment by efficiently using energy, water, and other resources, protecting occupant health, and reducing waste, pollution, and environmental degradation.
All SteelMaster metal Quonset huts are covered in Energy Star-rated Galvalume Plus coating, which reduces energy consumption by reflecting heat. This keeps your building cool in the summer and warm in the winter.
Title 24 of the California Code of Regulations governs the design and construction of buildings. It applies to all building occupancies in the state of California and contains requirements for structural, mechanical, electrical, and plumbing systems.
Part six of Title 24 ensures new and existing buildings are energy efficient. The California Energy Commission implements and updates the California Title 24 Building Energy Efficiency Standards. Since 1978, the Energy Efficiency Standards have made buildings more comfortable with lower energy costs. The energy standards adopted in the California Code of Regulations make sure that builders use the most energy-efficient technologies and construction.
There are also several ways to customize our energy-efficient buildings to increase their sustainability. Customers may harness natural sunlight by installing large windows. They can also install on-site renewable energy sources such as solar power, wind power, hydropower, or biomass to significantly reduce the environmental impact of the building and maximize the building's eco-friendly potential.
Why does Northern California choose SteelMaster?
Because Northern California has a greater surface area than Southern California, the weather is very diverse across the region. SteelMaster's versatile Quonset huts are fit for any climate, whether it is an area with heavy snow loads or a harsh coastal environment. No matter which part of NorCal you're in, we can engineer a building to stand up to the rigors of mother nature.
Why does Southern California choose SteelMaster?
SteelMaster's building specialists have worked on many projects in Southern California; from movie sets to backyard sheds. No matter the scale of your building project, SteelMaster has the expertise to design and deliver a building kit directly to you. Add to that, our buildings are perfect for eco-friendly Californians, as all of our buildings are made of at least 80 percent recycled steel and have an Energy Star rated coating. Plus, parts and accessories like skylights and solar panels can maximize a building's sustainability.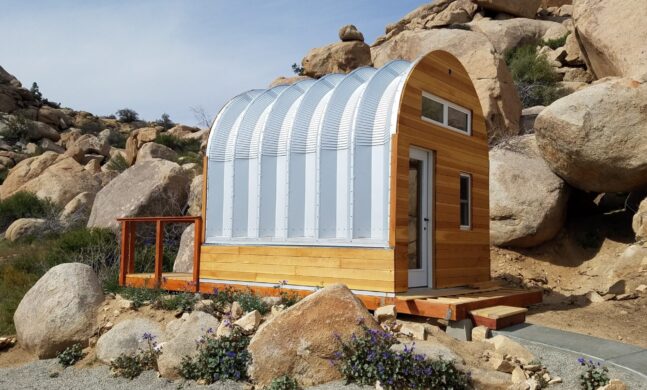 I had no experience with Quonset Huts when we started the process and now I feel like I'm an expert. The more of these you put up, the easier it gets. You get the hang of it.
Mark P., Pioneertown
California certified buildings
Talk to a building specialist
"*" indicates required fields