Team /
Scott Buckman
Aftermarket Sales Manager
Years at SteelMaster: 12 years
Specialty: Post-purchase customer relations
Scott Buckman has been an integral part of the SteelMaster team for almost a decade. Currently, he is a National Sales Manager leading the Aftermarket Sales Team.
Scott thrives in his managerial role as he strives to further the potential of the members on his team.
"I want to help my team see the potential and value in themselves that they don't see themselves," Scott said.
Scott has sold a wide range of applications including homes, storage buildings, workshops, aircraft hangars and more, across all 50 states.
In addition to the educational aspect of his career, Scott loves connecting with customers around the world.
"I love talking to happy customers. We strive to make the customers happy with their choice."
House in Kona, Hawaii
With Hawaii being moderate temperatures, Peter's home does not require insulation. "However, moving air is critical. Certain areas of Hawaii can get very wet. He got several fans to keep the air moving," Scott explains.
Scott explains the benefits of using a Quonset building for a home. Once you get arches up which can happen in a matter of days, you can finish the rest at your leisure, and can customize to whatever you want it to be.
House in Bryan, Texas
The home is a total custom project, with Scott assisting every step of the way. The showstopper to this home are the side openings overlooking the serene pool in the backyard, which were also designed and manufactured by SteelMaster.
"What was spectacular about this project was what I learned from an engineering and design perspective. Going back and forth with the architect and our factory on maximizing the size of the side openings, incorporating a chimney vent in the roof, as well as designing a Galvalume Plus corrugated liner system for the ceiling of the building was such a learning experience," said Scott.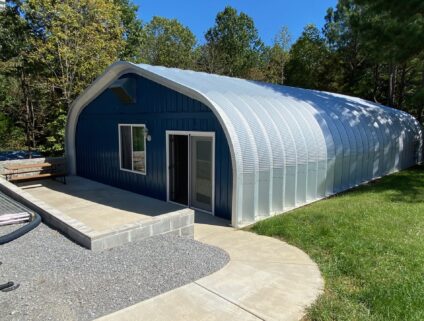 Poolhouse in Clarksville, Tennessee
It was Scott's first pool house of this nature, and Scott says, "the most memorable." Scott adds, "He was so much fun to work with because he cared so much about the details." From the stainless-steel fan and lighting fixtures to the blue spray foam insulation, Kelly truly paid attention to the details to make this as functional and aesthetically pleasing as possible.
Workshop in Keaau, Hawaii
Geno's dream was to retire to Hawaii and spend his time working on motorcycles and building surfboards. Therefore, he reached out to SteelMaster in search of two buildings for his hobbies. Geno was able to erect the arches quickly and then spent additional time with the parts and accessories.
Aircraft Hangar in St. Helena, California
After settling on a building, Scott was presented with a challenge upon delivery. California has strict clearance guidelines and would not allow the truck to deliver to Matt's property. However, SteelMaster's Customer Service Team helped Matt with that challenge. They were able to get the building delivered safely, and then Scott went on to assist Matt with his after-purchase needs.
House in Munford, Tennessee
The exterior of the home is custom, complete with vinyl siding and stone end-walls. Meanwhile, the interior has two levels, and a master en-suite. Scott assisted Mike with the sliding garage door, which provides a view and plenty of natural light. Mike is extremely happy with his Quonset home, mainly because it is so environmentally friendly!
Ready to start your project?
Contact Scott today!
"*" indicates required fields
By adding my phone number, I agree to receive recurring automated text messages at the phone number provided. Consent is not a condition to purchase. Messaging & data rates may apply. Reply STOP to cancel. View our Terms of Service for details.